Spring is in the air here in Georgia! Stinky Bradford Pears are starting to bloom and my kinders are getting ready for first grade! I can't believe we only have 50 days left in kindergarten!
As I've said before, this time of the year

absolutely

amazes me! We've worked so hard since August to

become independent learners! Here are a few of the activities we've been doing lately...
Yes, I LOVE Saxon Phonics but this year our county is following Recipe for Reading. However, I have extra copies of the little phonics readers that are perfect for guided reading! I've also made a few comprehension/ phonics skill sheets. Would love to post these but can't because of copyright laws. Sorry friends.
One of the most popular Word Work activities in my room is "Sight Word Secret Codes". I made copies and put each sheet in a color/numbered folder. The kids start with 1 and over time complete all 10. Here lately my kids have been trying to get them all done in the 20 minutes we have for centers. PS: They have to read all the words to get a super smelly star on their paper!! (Scentos Markers ROCK!)
Shout out to my friend Deedee Wills at Mrs. Wills Kindergarten...my lions LOVE her monthly writing stations! Of course, I own all of them! It's so awesome to see my kids smiling and writing (at the same time)! You can get these awesome packs at Deedee's TpT store by clicking on this picture...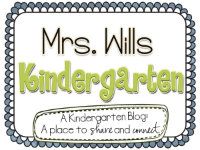 Who can unscramble sight words? My lions CAN!! At first this was a hard concept for my kiddos but we've practiced and now we're champs at it! This is one of our March Word Work activities and it is included in my St. Patrick's Day pack!
Speaking of sight words...here's a FREEBIE

for you! Simply click on the picture to download!
Click on the pictures to be direct

ed to my TPT store!