Howdy! Allow me to introduce myself! I am Greg from Smedley's Smorgasboard of Kindergarten! I am well known for glitter...mustaches...and silly hats!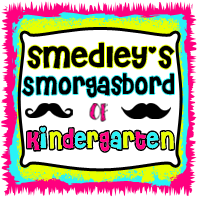 Thank you Nicole for allowing me to visit your blog. I promise to behave!
I want to share some the activities and centers that we're using to build our CVC word blending skills. CVC words are such important pieces of the reading puzzle for our kindergarteners that a solid foundation is vital. We practice CVC words daily during our whole group lesson, the monsters work on CVC words during centers and we do CVC picture sorts a couple of times a week for even more practice! We even do CVC words during Morning Meeting! Yeah, we do a lot of CVC word work!
This center uses CVC word cards and clothespins. Students use the clothespins that are programmed with letters. They clip the letters onto the word cards to build the word. Then they read the word.
This basketball themed center allows students to write their CVC words. The cards contain a picture of a CVC word and are laminated. Students use their sounds to write the words!
This super cute center came from my friend Shuna at
Pocketful of Kinders
! This set has different levels that include beginning sounds, middle sounds, ending sounds and all the sounds. The student's say the words and write the missing sound!
This is another word building center. I created these tiles using some of the billion (yes, I think there are a billion of these tiles in my room....they keep multiplying...) plastic tiles and a cute Scrabble tile font I have. Students select a card and use the tiles to build the word. Then they read the word. Or stack the tiles. Or build a fort with the tiles. Or dump the tiles out. You know, they do what Kindergarteners do!
This is our most requested CVC center. For obvious reasons! The students get to write CVC words on the Smart Board! There are 30 words in this center. They write the word and click to the next slide. I have 3 versions of this center: middle sounds, ending sounds and all sounds! How do you get to be a rockstar teacher: SMART BOARD!
Finally, we have a written assessment piece weekly. I give the students this sheet with different CVC words and they write the word. This gives me a quick glance at how they're doing with CVC words!
Yeah, that's how we roll with CVC words in the kindergarten smorgasboard. Here is a little CVC I Have Who Has game for you!
Thanks for reading my mindless ramblings!
And here is another freebie, just because I love that it features my doggie Butters and my handwriting!