Award
First of all, I would like to thank Lauren at Teacher Mom of 3 for giving me the Liebster Award! It was a very nice surprise!
This award is named for the German word "Liebster," which translates to "beloved" or "favorite", and it is given to "new, up and coming bloggers."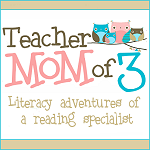 1. Link back to the person who gave it to you.
2. Post the award to your blog.
3. Give the award to at least 5 bloggers with less than 200 followers.
4. Leave a comment on the 5 blogs to let them know that they have been offered this award.

Here are the
blogs I have awarded the Liebster Blog to:
Take a minute and check out all these fabulous blogs! It's amazing how many blogs there are out in cyber space!! I could have made this list much longer!!!! Congratulations Ladies!
Since polka dots make me so happy, I had to create my Daily Five choice cards to match the rest of my classroom! Enjoy!
Question
So, I went back to my classroom this past week with high expectations of transforming my mess into a functional room again! Well, not much transforming occurred because apparently I left my motivation at home. One of the things I did work on was my word wall, which began as a huge dry erase board that needed a new function. I had this great idea that blue painters tape would be perfect to create my grid but that wasn't the case. I got the grid up on Wednesday and when I returned on Thursday it had fallen off the board.
Any suggestions on what I could use to create my grid that won't ruin the board?